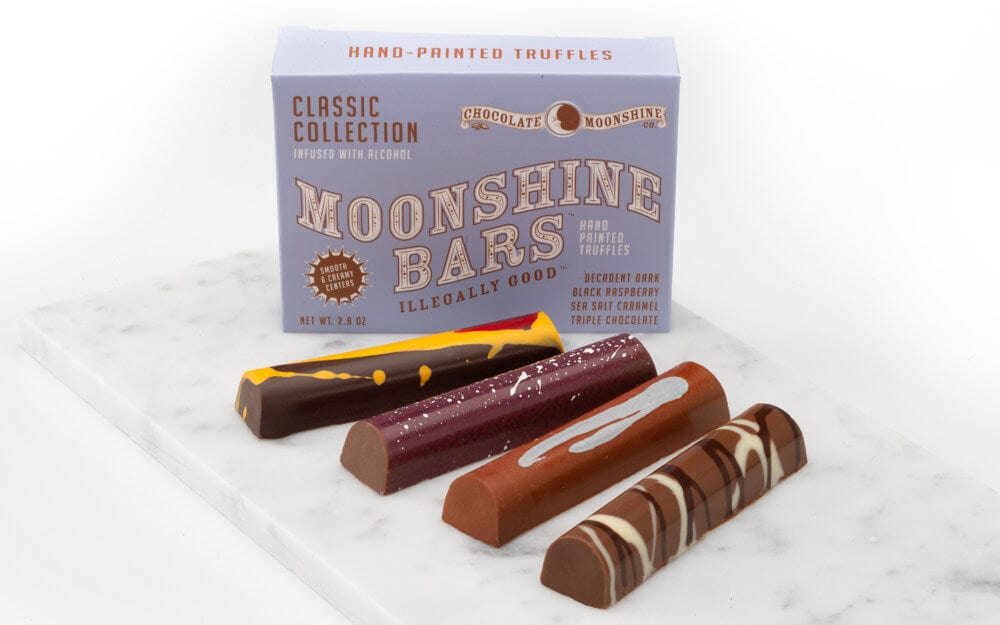 4 pk Original Classics Truffle Collection
2.8 Oz
The Original Classics has all the favorites: Dark Chocolate, Black Raspberry, Sea Salt Caramel, Triple Chocolate.
Chocolate Moonshine Truffle Bars are each hand-painted with color cocoa butter, wrapped in pure Belgian chocolate and filled with a silky smooth ganache and creamy center.
You can expect a Soft Silky Smooth Center Coated in Chocolate. Pure and Natural Taste. 0 Trans Fats. Non-Alcoholic. Hand-painted with Cocoa Butter. Gluten-Free. Belgian Chocolate. Micro Batches. Family Owned. No Egg or Wheat. 50% Less Sugar.
4 pieces per box, 20 G each piece, 80 Grams total
Allergy Alert:
All products are produced in a facility that processes nuts and may contain traces of tree nuts and peanuts. All truffle bars contain fresh cream (milk).
Ingredients:
Fresh Cream, Belgian Chocolate Liquor, Belgian Milk Chocolate (Contains Dry Whole Milk, Sugar, Cocoa Butter, Soy Lecithin added as Emulsifier.) Natural Flavor, Organic Whole Milk, Organic Cane Sugar, Invert Sugar, Butter, Natural Flavors, Vanilla Beans, Spices, Raspberries, Pectin, Sea Salt, FD&C Yellow 5